ARCHITECTURAL FOUNDATION OF SAN FRANCISCO 
2018    –   49th Annual
HIGH SCHOOL DESIGN COMPETITION
We are pleased to invite you to participate in the Architectural Foundation of San Francisco's 49th Annual High School Design Competition.  This is an exciting competition where high school students put their design skills, creativity, spatial and analytical thinking and craftsmanship to the test.  With the guidance of instructors, high school students design a building and communicate their design solutions through drawings and models.  All high school students in public, charter and private schools in the greater San Francisco Bay Area are encouraged to participate.  This competition offers young thinkers the opportunity to participate in a unique learning project.
Competition Schedule: 
This year's 49th annual High School Design Competition will be hosted by Associate Capital at this year's Potrero Power Plant project site!
SUBMISSION: Entries must be submitted on:
 Saturday, April 21, 2018
between 10:00 am and 12:00 noon  
420 23rd Street, San Francisco, CA 94107
PLEASE NOTE THAT LATE SUBMITTALS WILL NOT BE ACCEPTED! NO EXCEPTIONS!
Please utilize street parking along 23rd Street as well the publicly accessible parking lot adjacent to DHL – this serves as public waterfront access. Public transportation is available via the Muni T-line stop at 3rd St. and 23rd St. as well as the 22 and 48 bus lines stopping at 3rd St. and 20th St.
Click here for a detailed map of the venue.
Also, please note that this year, all entries may disregard the note about only allowing "black/white and shades of grey." The use of color in drawings and models will be accepted.
AWARDS CEREMONY AND RECEPTION: Sunday, April 22, 2018 from 4:00 – 5:00 pm at the same location.  All entrants, their parents and family members, and respective faculty instructors are invited and encouraged to attend. Winners will be announced and awards will be presented at this time.  Doors open promptly at 4:00pm.
This year we are awarding prizes in 3 categories: 1) Best Design (single entrant), 2) Best Group entry and 3) Best Digital entry.   Please note that depending on which option your students choose to enter, they will only be eligible for certain awards.  In addition to the standard prizes, the first place winner in the overall superiority category will receive a four week Summer Pre-college Scholarship at the California College of the Arts.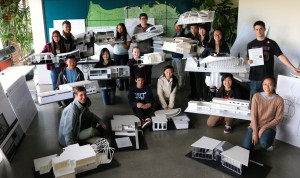 2018 Design Challenge:
This year you are challenged to design a Community Campus Center to be integrated as part of the Potrero Power Plant Site's newly envisioned mixed use development situated along San Francisco's eastern shoreline in the city's Central Waterfront district.
The overall master plan proposal calls for a mix of program including: residential, commercial office, research and development/Production, Distribution and Repair (PDR), hotel, and open space.  The objective for this competition endeavors to enhance the proposed development by establishing a community-centric hub inclusive of a large and diverse user group at a waterfront location that has been previously inaccessible to the public for over a century.
The Community Campus Center that you design will be a multi-functional place for members of the entire new neighborhood and beyond to gather and interact across a wide-range of uses and activities.   Inclusive of everyone and located centrally along the master plan's primary waterfront, your design proposal has the potential to act as the heart of the development.  Since 1890, the Potrero Power Plant and its predecessors supplied San Francisco with electricity until its closure in 2011.  Pacific Gas and Electric (PG&E) is responsible for the site's environmental remediation before any new construction can commence.  So far, PG&E has remediated three out of the site's seven contaminated areas with three other areas expected to be completed by 2020.  For the last remaining area, removal of three large above-ground tanks concluded last year for further analysis of the ground below. The only remaining structures from the site's industrial past will be the former power plant's iconic 300' tall smokestack and its adjoining Unit 3 structure (see photos and more details in the HSDC Challenge Packet.
Unique to this year's competition, you are tasked with designing your building keeping these structures intact, which are also located directly adjacent to your project site.  Consider how inserting a new structure within the site's historical context plays a role in your design concept and massing strategy.  You may choose to frame your design intervention within the existing structures as an entirely separate ground up (new) structure or you may choose to directly interact the existing structures and propose an adaptive reuse solution.
As always with this competition, you will be critiqued more on the aspirations of your "big idea" than your ability to problem-solve every technical detail of your design's real-life features and ramifications.  However, if you do choose to elaborate on certain technical aspects of your design, we welcome anything and everything that intrigues you about your design.
Ultimately, have fun with it!
DOWNLOAD THE 2018 HSDC CHALLENGE PACKET HERE:
We Look Forward to Your Participation!
Classroom Support for Teachers:
Ryan Lee of Woods Bagot is this year's Competition Chair and Author.  He will be available to visit your classroom and discuss the program with your students.  You may call him directly at 415-277-3041 or e-mail him at Ryan.Lee@woodsbagot.com to set up a classroom visit.  If you have any questions, please do not hesitate to contact Ryan.