ARCHITECTURAL FOUNDATION OF SAN FRANCISCO 
2019
50th Annual
HIGH SCHOOL DESIGN COMPETITION
We are thrilled to invite you to participate in the Architectural Foundation of San Francisco's 49th Annual High School Design Competition.  This exciting competition requires high school students to put their design skills, creativity, spatial and analytical thinking and craftsmanship to the test.  With the guidance of instructors, high school students design a building and communicate their design solutions through drawings and models.  All high school students in public, charter and private schools in the greater San Francisco Bay Area are encouraged to participate.  This competition offers young thinkers the opportunity to participate in a unique learning project.
Details on this year's competition are here.
Competition Schedule: 
SUBMISSION: Entries must be submitted on:
Saturday, April 27, 2019
between 10:00 am and 12:00 noon  
Location:  
GENSLER
45 Fremont St. Suite 1500
between Market Street and Mission Street
Please note that late submissions will NOT be accepted.
AWARDS CEREMONY AND RECEPTION:
Sunday, April 28, 2019
4:00 – 5:00 pm
Location:  
GENSLER
45 Fremont St. Suite 1500
between Market Street and Mission Street
We award prizes in 3 categories: 1) Best Design (single entrant), 2) Best Group entry and 3) Best Digital entry.   Depending on which option you choose to enter, you will only be eligible for certain awards.  In addition to the standard prizes, the first place winner in the overall superiority category will receive a four week Summer Pre-college Scholarship at the California College of the Arts.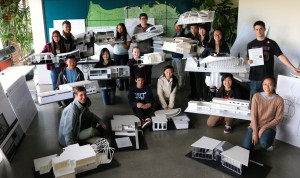 2019 Design Challenge:
====The 50th annual challenge====
This year, you are challenged to design the new Tenderloin YMCA as part of UC Hastings' Long Range Campus Plan at the nexus of San Francisco's Civic Center, Tenderloin, and Mid-Market neighborhoods.
Download the 2019 Design Challenge Packet
The University of California Hastings College of the Law – a public law school is expanding its downtown facilities to upgrade its academic environments and increase the amount of affordable housing for students and teachers. As part of the master plan expansion, UC Hastings endeavors to embed itself deeper into the public realm by providing infrastructure for both its students and teachers and also the broader community to weave its academic campus aspirations into the overall neighborhood fabric. The new YMCA facility will be the centerpiece of these communal upgrades.
"The YMCA is a unique organization serving diverse communities with recreational and wellness programs and opportunities for all ages. It also serves as a community hub bringing together disparate groups into a united community. In this partnership with UC Hastings, the YMCA seeks to incorporate a 39,000-square foot facility into one of the new buildings on the campus, where they will offer a new wellness, recreation and community services facility with aquatics, team sports, and multipurpose spaces. The YMCA would also partner with the legal and medical students and faculty to provide clinics and workshops to benefit both students and the community members."
YMCA Development
For over a century, the Central YMCA occupied the historic 9-story 150,000 square foot building at 220 Golden Gate Ave. in San Francisco's Tenderloin. Completed in 1910, the building was the oldest YMCA in the city and in need of seismic retrofitting, which the organization could not afford. Since its closure in mid-2009 and after the building was sold to the Tenderloin Neighborhood Development Corp. to be converted to supportive housing, the Central YMCA has been looking for a new home to bring back what was once an integral hub for the community at large.
"It resets our longest-term and deepest commitment in this city, which is to the Tenderloin. It opens an opportunity to show what the Y can bring in a holistic way to a larger vision around an academic village. It will be more than just a gym, a swimming pool and exercise space. We are interested in social justice, in youth development, in holistic and chronic disease prevention. We see a tremendous opportunity for civic engagement."
– Chuck Collins, President, YMCA of San Francisco
Another community-oriented tenant in the new campus facilities may be a Legal Services hub, which would accommodate a variety of nonprofit legal services organizations maximizing shared platform and space sharing opportunities. The co-location of these organizations would offer synergistic opportunities, including internships for law and other graduate students as well as being a source of legal services to the community at large."
Consider what it means to enhance an academic campus with a communal amenity and design a building that is inclusive of all users.  Our critiques focus more on the aspirations of your "big idea" than your ability to problem-solve every detail. However, if you do elaborate on certain technical aspects, we welcome anything that intrigues you about your design.
And as always, have fun with it!
The 2019 50th Annual High School Design Competition, complete packet with full info, maps and more:
http://www.afsf.org/wp-content/uploads/2019/01/2019_AFSF_HSDC_Packet.pdf
Other Links and resources:
UCHastings_2018_02_20_FINAL-2823htt.pdf
https://www.sfchronicle.com/bayarea/article/UC-Hastings-law-school-plans-to-erect-new-6082916.php
https://www.sfchronicle.com/bayarea/article/UC-Hastings-expansion-will-add-housing-bring-12625324.php
http://building.uchastings.edu/
http://theloftsatsevensf.com/portfolio/uc-hastings-college-oflaw/
https://www.ymcasf.org/locations/bayview-hunters-point-ymca
https://www.ymcasf.org/locations/shih-yu-lang-central-ymca
https://hoodline.com/2018/02/multi-year-uc-hastings-campus-expansion-begins-in-april
We Look Forward to Your Participation!
Classroom Support for Teachers:
Ryan Lee of Woods Bagot, the Competition Chair and Author is available to visit your classroom and discuss the program with your students.  Call him at 415-277-3041 or e-mail him at Ryan.Lee@woodsbagot.com to set up a classroom visit.  If you have any questions, please do not hesitate to contact Ryan.