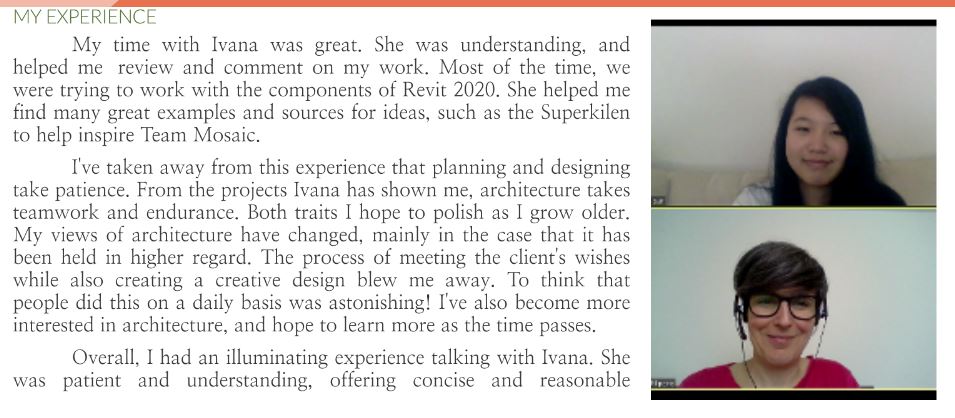 Mentoring is one of the most impactful components of AFSF programs, for both students and mentors.  Our high school students get to experience real work in the design world while gleaning personal insights from a professional.  And our mentors get to share their perspectives with open-minded youth, engaging the next generation of designers and engaged citizens.  
We need your assistance to continue offering this opportunity to an increasing number of students.
Online mentoring in particular supports students who participate from across the US and around the world.
Sign up here to share the ins-and-outs of your work life, pass on lessons learned, and affirm the breadth of possibilities that lie before today's youth.
AFSF mentors are working professionals (architects, engineers, designers, managers, planners, etc.), who meet weekly with one or two students, to offer a first-hand experience of the work, and professional-level feedback on the students' AFSF projects.
If your firm is interested interested in participating collectively, or if you know of others who would be great mentors, please email Fred Werner: fred@afsf.org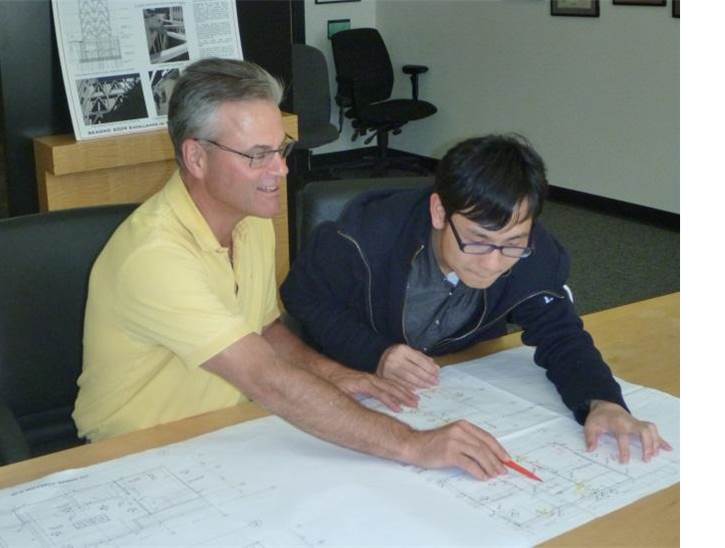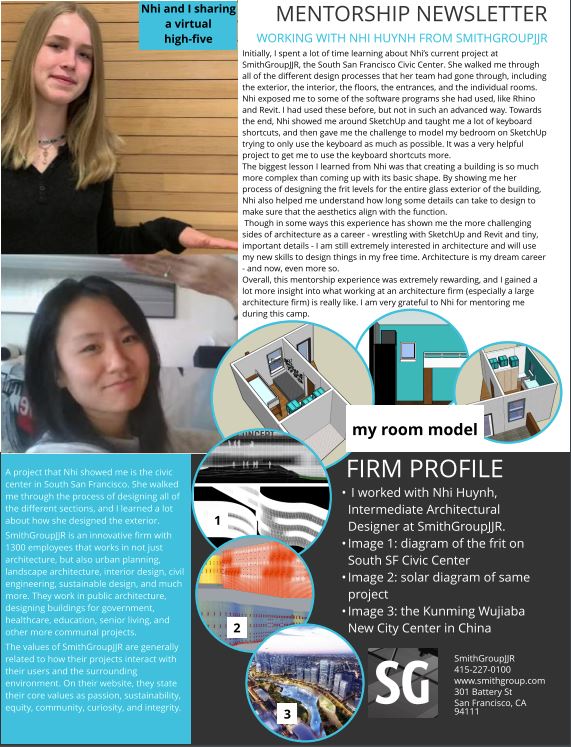 AFSF Mentoring Opportunities Fall 2023:
All AFSF mentoring is online (unless otherwise requested), 1 hour per session.
Dates indicate the weeks of mentoring. You can mentor any day of the week. Sessions will be scheduled to fit your availability.
October 16 – November 20 (once weekly for 6 weeks)
(for the AFSF Saturday Design Studio)
Spread the word! We're always looking for more mentors for our youth.
Frequently Asked Questions:
When would I mentor?
Mentoring involves 1-hour weekly online sessions, scheduled to meet your availability.
Most AFSF programs are 6 weeks long. Our after-school MYEEP program for SF high school students is 10 weeks. Our Summer Design Institutes are only 3 weeks each, so mentoring is twice a week for those June & July programs.
Who can mentor?
Anyone in the design + build world. We welcome all professionals working in architecture, engineering, construction trades, construction management, landscape architecture, interior design, graphic design or related fields. Most mentors meet their students individually, some mentor in pairs, or as a team.
Who are the students?
AFSF participants are high school students aged 14-18, mainly from the SF Bay Area, with an increasing number of students participating from across the US and around the world. A few of our programs are exclusively geared towards students from underserved communities, including our Build SF-MYEEP program for SF high school students, and our Build-Antioch program for 18-24 year old Transitional-Aged Youth (TAY) in the East Bay.
What will I do with them?
Mentoring with AFSF entails the following 3 (or 4) components:
Share your own professional experiences:

the field you're in, the scope of work you do

what a typical year / week / day looks like for you

the arc of your education and career

how you made your choices, lessons learned along the way

Introduce your intern to the specifics of your work

and your firm

samples of past or ongoing projects,

tasks and products

tools (digital and otherwise).

scope and arc of project work within your firm

virtual tour / site visit of work space, work sites, completed projects

introduce others at the firm

Provide feedback

on work the intern is doing with AFSF

digital designs

research projects

presentations

compiling their portfolio

OPTIONAL:

Assign a small project or task(s)

they can complete

work with images or files, labeling, etc.

graphic design, flier, map, etc.

design / sketching / modeling practice
How will mentoring take place?
Mentoring occurs remotely, like all aspects of AFSF programming. Connect with your intern via the online platform you regularly use for work (Zoom, Meet, Skype, BlueJeans, etc.)
If your student is local, and you would like to mentor in-person or have them visit your offices or a project site, confirm with Fred and your student's parents beforehand.
What other expectations are there?
Model professional habits and behavior

Communicate consistently with your student (

e.g. if you need to reschedule a session)

Maintain professional and school-age-appropriate language & decorum

Keep us updated on your student's progress

Complete a SHORT weekly survey on their participation

Show up to your student's final presentation, if possible
Spread the word! We're always looking for more mentors for our youth.
Other questions? Email fred@afsf.org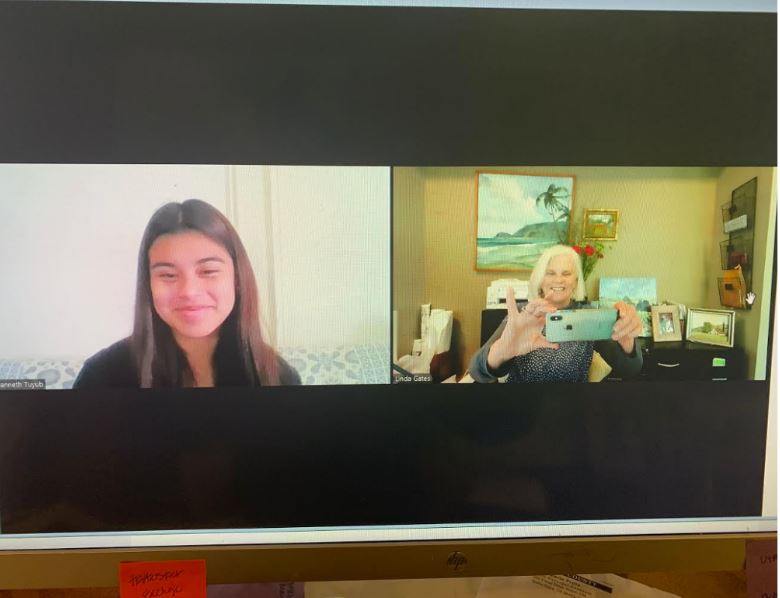 Share your availability for mentoring this year with AFSF.
All info is treated confidentially.  No info is shared with any other organizations, nor used for any purposes besides arranging mentoring.