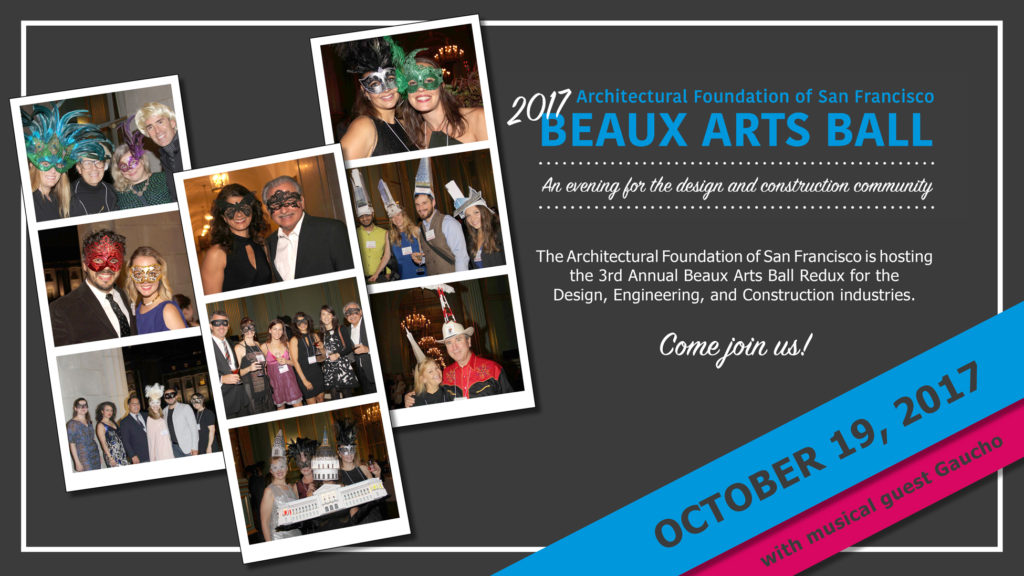 The Architectural Foundation of San Francisco invites you to our annual Beaux Arts Ball, a festive evening to celebrate the people who plan, design, and build our city.  Everyone in, supportive of or interested in the Design, Architecture, Engineering, Contracting, Development, Construction, MEP and related industries is welcome to the party!
We also invite prominent members of the design and construction communities to become supporters of this event. Proceeds from the Beaux Arts Ball support our educational programming, including:
Build SF
Summer Design Institute
High School Design Competition
and our other educational and internship programs
AFSF provides skills and training for high school students from diverse backgrounds.  And we place students in one-on-one internships with professional architects, engineers and contractors as mentors.
Come celebrate the many accomplishments of those creating our built environment.  And show up to support our mission of furthering architectural education and opportunities for SF Bay Area youth.
Costumes encouraged. Bring friends! 
See you there!
DATE & TIME
Thursday, October 19, 2017
6:00 PM – 10:00 PM PDT
LOCATION
San Francisco War Memorial & Performing Arts Center
401 Van Ness Avenue
The Green Room
San Francisco, CA 94102
TICKETS & SPONSORSHIPS

Friends of AFSF – 2 tickets + name recognition

Bronze Level – 5 tickets + 5 slides in event presentation

Silver Level – 10 tickets + 10 slides in event presentation

Gold Level – 20 tickets + 20 slides in event presentation
PURCHASE

Tickets are available for purchase on EventBrite.