The Architectural Foundation of San Francisco's Twentieth Annual Awards Breakfast will be held on Thursday, May 16, 2019 
The City Club, 155 Sansome Street, 11th Floor   San Francisco
7:30 am             Check-in and Coffee
7:45                   Breakfast
8:00 – 9:30      Program
Click here to order tickets.
Sponsor @ $2,800 (reserves a table including 8 tickets)
Contributor @ $1,500 (reserves half a table with 4 tickets)
Individual Tickets are available @ $375
To purchase tickets please contact Alan Sandler, 415-393-1493, or click here to pay by credit card or via PayPal:
The Architectural Foundation of San Francisco's Twentieth Annual Awards Breakfast will be held on Thursday, May 16, 2019 at The City Club, 155 Sansome Street, 11th Floor in San Francisco.  The event will begin at 7:30 am with check-in and coffee.  Breakfast will begin at 8:00 am and conclude by 9:30 am. This event honors outstanding teachers, principals, students, architects and designers working on design education projects in classrooms, firms and community organizations throughout the SF Bay area. This annual awards event is attended by over 150 architects, engineers, contractors, educators, students and civic leaders.
The Architectural Foundation of San Francisco (AFSF) is a non-profit educational organization that involves SF elementary and secondary public school students through a mentored appreciation of architecture, engineering, construction and the design process.
Past keynote speakers have included noted designer Alexander Julian, SFUSD Superintendent Carlos Garcia, Milton Chen, Exec. Dir. of The George Lucas Educational Foundation, David Macaulay, author and illustrator, Dr. Tom Peters, Pres. and CEO of the Marin Community Foundation, Dr. Sandra Hernandez, CEO of the San Francisco Foundation, Keith Wheeler, Pres. and CEO of the Foundation for Our Future at the Center for a Sustainable Future, and Moy Eng, Program Dir. of the Performing Arts Program and The William and Flora Hewitt Foundation.
Proceeds support AFSF's educational programs, including our MYEEP internships (in partnership with the Mayor's Youth Employment & Education Program), our Future Grads internships (in partnership with sf.citi and the SF Police Foundation), and particularly our Build San Francisco Institute (BSFI).
BSFI is a collaboration between AFSF and the SF Unified School District, as part of the District's Secondary School Redesign Initiative. This is an opportunity for SFUSD high school juniors and seniors to participate in an experiential learning program in architecture and urban design. Offering classes and mentorships in the afternoon hours of the school day, the Build San Francisco Institute introduces students to the real world of urban planning and design, providing them a unique opportunity to become involved in the development of San Francisco.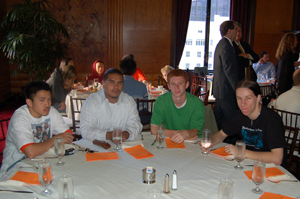 Students from the Build San Francisco Institute. AFSF breakfasts have showcased the Build San Francisco programs including both the morning Independence High School program and the afternoon Build San Francisco Institute mentorship program which were recognized for their outstanding work.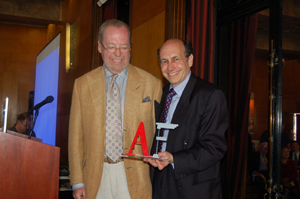 AFSF Executive Director presents Alexander Julian with the Speaker's Award.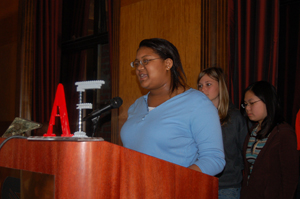 Build San Francisco Institute Student Speaker Mikalynn Todd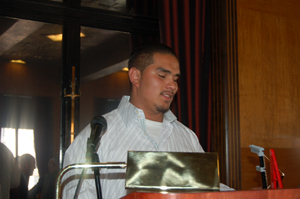 Build San Francisco Institute Student Speaker Alex Arevallo