Kirby Ward Fitzpatrick Prize

Awarded annually by
the Architectural Foundation of San Francisco
in recognition of the
Best New Building by a Small Firm
2018 Kirby Ward Fitzpatrick Prize
South Park
South Park St. @ Jack London Alley
David Fletcher, Fletcher Studio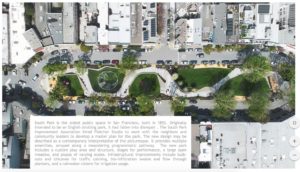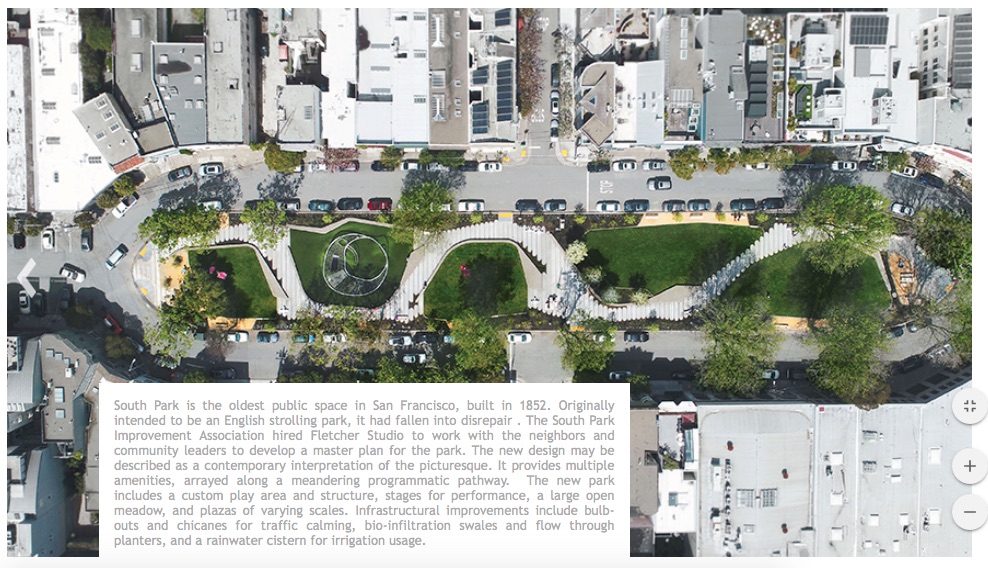 2017 Kirby Ward Fitzpatrick Prize
Mercy Housing
200 6th St. @ Howard
Owen Kennerly, Kennerly Achitecture + Planning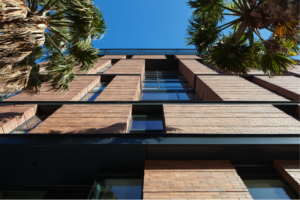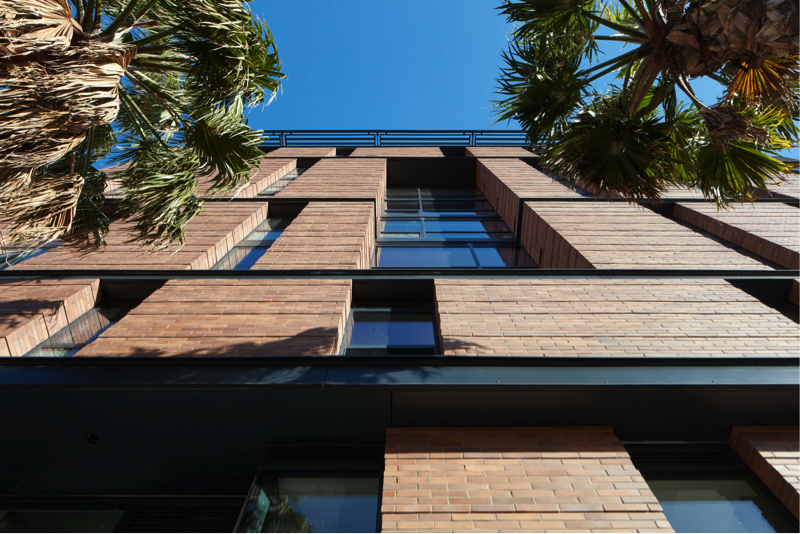 2017 Kirby Ward Fitzpatrick Prize
DREAM:shop
Minna alley, SoMa
Andrew Dunbar, Interstice Architects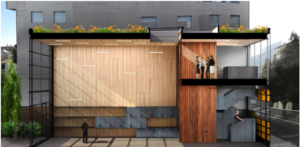 2015 Kirby Ward Fitzpatrick Prize
Golden Gate Bridge Pavilion
Jensen Architects + Project Frog
Golden Gate National Park Conservancy as clients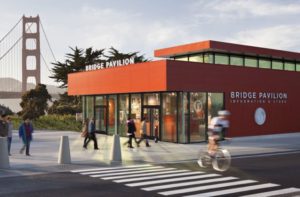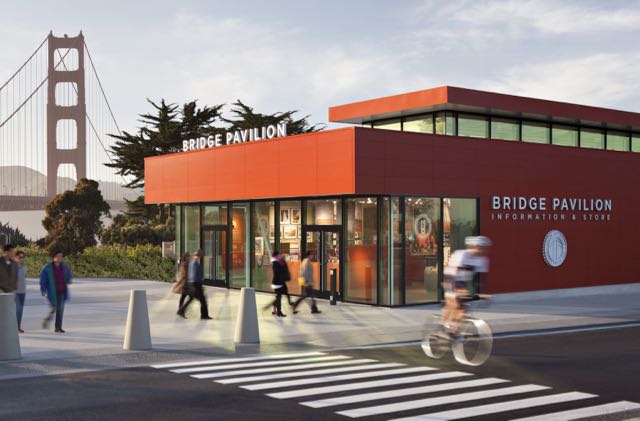 2014 Kirby Ward Fitzpatrick Prize
Firehouse Number 1
SFMOMA, SFFD, and SFDPW as clients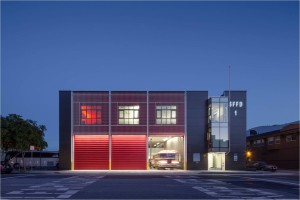 2013 Kirby Ward Fitzpatrick Prize
Bayview Branch Library
in association with THA Architects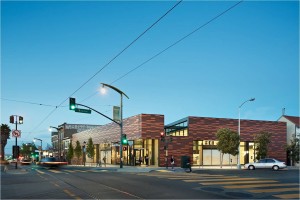 2012 Kirby Ward Fitzpatrick Prize
PROXY Hayes Valley, San Francisco
Douglas Burnham, Adjunct Professor and principal of envelope a+d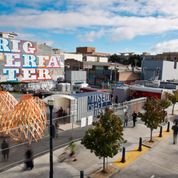 A placeholder for a more permanent development, proxy is a temporary two-block project that creates a centralized, ever-changing experience in the heart of a San Francisco neighborhood in transition. Transforming vacant lots on the former site of an elevated freeway, proxy is a new model for urban development: recasting underused urban areas into thriving cultural con-structs. A content machine, tied to the pace of contemporary culture, proxy embraces the city's vast diversity and encourages the rotation of new ideas, start-up business, and innovative art installations. Here events, retail spaces, art and even food offerings rotate through proxy's open framework of tem-porary structures, invoking a flexibility between people, architecture, and the city. Operating under the motto HERE FOR NOW, proxy is an investigation into the potential of impermanence: stressing the importance of presence, heightened engagement, and seizing the moment.
2011 Kirby Ward Fitzpatrick Prize
Ingleside Branch Library
Fougeron Architecture with Group 4 Architecture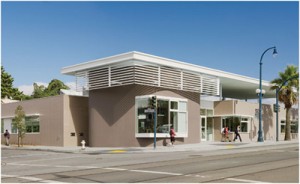 Reviewed by Joann Gonchar, AIA, Architectural Record Magazine
"Building better libraries for stronger communities" – San Francisco's ambitions were on the minds of the architects responsible for a branch on a corner lot on Ocean Avenue.  Anne Fougeron, principal of the eponymous firm that designed the $3.5 million building library along with Group 4 Architecture in the Ingleside neighborhood's main commercial strip, aimed to distinguish the library from the surrounding jumble of residential and commercial buildings with a "grander scale" that belies its true size.  The interiors are uncluttered and cleanly modern, with tightly coordinated components and intriguing elements that Fougeron refers to as "little moments to spark a child's imagination."
2010 Kirby Ward Fitzpatrick Prize
1 Kearny St.
Office of Charles F. Bloszies AIA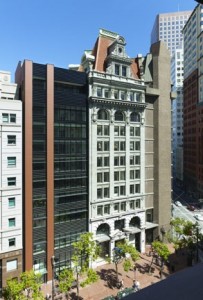 An amalgam of three buildings, one new and two existing forms a new single office building with retail uses on lower floors,  The original French Empire style building was constructed in 1902 and survived the 1906 earthquake and fires. An Annex was constructed in the mid-1960's, one of Charles Moore's first designs. The new building takes cues from both styles while inserting a contemporary timestamp.  A richly textured glass and aluminum facade, tempered by terra cotta panels, contrasts the nearby buildings in the architecturally conservative downtown historic district.
2009 Kirby Ward Fitzpatrick Prize
Sava Pool
Mark Cavagnero & Paulett Taggart
2008 Kirby Ward Fitzpatrick Prize
Congregation Beth Sholom
Stanley Saitowitz/Natoma Architects Inc.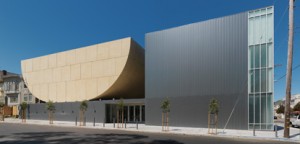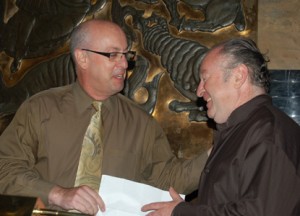 (Stanley Saitowitz receiving the 2008 Kirby Ward Fitzpatrick price from AFSF board member, David Meckel, FAIA)
2007 Kirby Ward Fitzpatrick Prize
La Cocina & Folsom St. Housing
About the KWF Prize
The Kirby Ward Fitzpatrick Prize (KWF Prize) is awarded annually by the Architectural Foundation of San Francisco, in recognition of the best new building completed in that year, designed by a small firm in San Francisco, and is named in honor of SF architect Kirby Ward Fitzpatrick (1935-1988) whose own award winning designs include the Peralta Elementary School in Oakland (with Dan Solomon).  During the time his office was at 447 Sutter Street, he also designed many private homes including one in St. Helena, which was published in Architectural Record Houses.  The KWF Prize was made possible by his estate in order to recognize excellence in small architectural practices.
Inaugurated in 2005, the first KWF Prize was awarded to Jim Jennings  for his design of the Visiting Artists Studio at the Oliver Ranch in Geyserville.  The award, along with a check for $2500, is presented to the building's architect at the AFSF's Annual Awards Breakfast each May.