ARCHITECTURAL FOUNDATION OF SAN FRANCISCO 
2020
51st Annual
HIGH SCHOOL DESIGN COMPETITION
---
NOTE: As we monitor the evolving situation regarding COVID-19, plans are underway to pivot the submission and judging to a digital process so all students will continue to have the opportunity to engage with this creative and academic challenge. As the original submission date of April 25th is still over a month away, we will announce more details including possible schedule changes while we work with schools and teachers to determine the best timeline for all involved. We eagerly support your interest in this competition while prioritizing everyone's health and safety first.
---
We are thrilled to invite you to participate in the Architectural Foundation of San Francisco's 51st Annual High School Design Competition.  This exciting competition requires high school students to put their design skills, creativity, spatial and analytical thinking and craftsmanship to the test.  With the guidance of instructors, high school students design a building and communicate their design solutions through drawings and models.  All high school students in public, charter and private schools in the greater San Francisco Bay Area are encouraged to participate.  This competition offers young thinkers the opportunity to participate in a unique learning project.
For 2020, given the CoVID-19 situation, all entry submission and judging will take place on-line.  Details on this year's competition are here.
Competition Schedule:  SUBJECT TO CHANGE
SUBMISSION: Entries must be submitted on:
Saturday, April 25, 2020 (10am – noon)
Location:  TBA
Please note that late submissions will NOT be accepted.
AWARDS CEREMONY AND RECEPTION:
Sunday, April 26, 2020, 4-5pm
Location:  TBA
This year we are awarding prizes in 3 categories: 1) Best Design (single entrant), 2) Best Group entry, and 3) Best Digital entry.   Please note that depending on which option your students choose to enter, they will only be eligible for certain awards.
In addition to the standard prizes, the first place winner in the overall superiority category will receive a four week Summer Pre-college Scholarship at the California College of the Arts.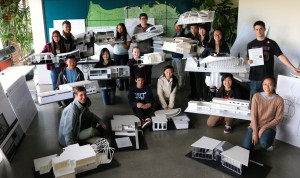 2020 Design Challenge:
====The 51st annual challenge====
This year students are challenged to design an interim use Communal Hub at 730 Stanyan Street in San Francisco's Haight-Ashbury neighborhood.
In December 2019, the city of San Francisco negotiated a deal to purchase this site redeveloped into 100 percent affordable housing. "Opportunities to build 100 percent affordable sites are limited in San Francisco," Mayor Breed said. "Those sites are even scarcer in neighborhoods like the Haight Ashbury, which are already developed."
Prior to construction, the city must conduct environmental reviews of the site and building plans must be drafted and approved, a process that could take up to 4 years. Due to a local mandate to prevent sites from lingering vacant, a temporary use for the site must be determined while the permitting process takes its course. The city's criteria for temporary uses require that any new enterprise "serves or employs low to moderate income persons, benefits the community as a whole, and is financially self-sufficient."
Consider what it means to temporarily enhance an empty parcel with community-focused amenities and put forth a design proposal that is inclusive of all users.
Download the 2020 Design Challenge Packet
And as always, have fun with it!
The 2020 51st Annual High School Design Competition, complete packet with full info, maps and more:
http://www.afsf.org/wp-content/uploads/2020/01/2020_AFSF_HSDC.pdf
Other Links and resources:
Taking It To The Streets, a Haight-Ashbury / Cole Valley organization that empowers homeless youth and provides opportunity for housing, employment and mentorship
US Green Building Council's Leadership in Energy and Environmental Design (LEED) sustainability rating system for buildings.
We Look Forward to Your Participation!
Classroom Support for Teachers:
Ryan Lee of Woods Bagot, the Competition Chair and Author is available to visit your classroom and discuss the program with your students.  Call him at 415-277-3041 or e-mail him at Ryan.Lee@woodsbagot.com to set up a classroom visit.  If you have any questions, please do not hesitate to contact Ryan.
This year's 2020 competition is sponsored by Forge Land Company | Sustainable and affordable living for the urban environment