The Architectural Foundation of San Francisco (AFSF) holds numerous events throughout the year to support our mission.
Coming up this fall is the AFSF's annual Beaux Arts Ball – to be held Thursday evening, October 19, 2017, at the San Francisco War Memorial & Performing Arts Center, 401 Van Ness Ave.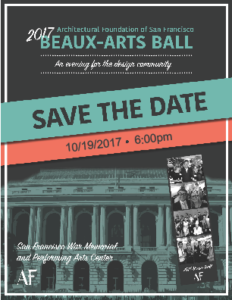 Everyone in, supportive of or interested in the Design, Architecture, Engineering, Contracting, Development, Construction, MEP and related industries is invited to the party!  (costumes optional)
We also invite prominent members of the design and construction communities to become supporters of this event. Proceeds from the Beaux Arts Ball support our educational programming.  For more info, see:
Bring friends, see you there!