Architectural Foundation of San Francisco
Kirby Ward Fitzpatrick Prize
Awarded to the Best New Building by a Small Firm
2014 Kirby Ward Fitzpatrick Award
Firehouse Number 1
LMS Architects
SFMOMA, SFFD, and SFDPW as clients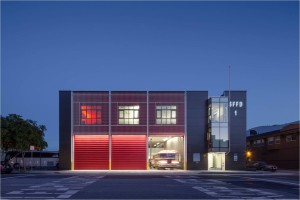 2013 Kirby Ward Fitzpatrick Prize:
Bayview Branch Library
Karin Payson
in association with
THA Architects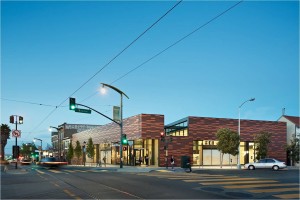 2012 Kirby Ward Fitzpatrick Prize: PROXY Hayes Valley, San FranciscoDouglas Burnham Adjunct Professor,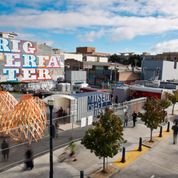 Architecture + principal of envelope a+dA placeholder for a more permanent development, proxy is a temporary two-block project that creates a centralized, ever-changing experience in the heart of a San Francisco neighborhood in transition. Transforming vacant lots on the former site of an elevated freeway, proxy is a new model for urban development: recasting underused urban areas into thriving cultural con-structs. A content machine, tied to the pace of contemporary culture, proxy embraces the city's vast diversity and encourages the rotation of new ideas, start-up business, and innovative art installations. Here events, retail spaces, art and even food offerings rotate through proxy's open framework of tem-porary structures, invoking a flexibility between people, architecture, and the city. Operating under the motto HERE FOR NOW, proxy is an investigation into the potential of impermanence: stressing the importance of presence, heightened engagement, and seizing the moment.
 *******************
2011 Kirby Ward Fitzpatrick Prize
Ingleside Branch Library
Fougeron Architecture with Group 4 Architecture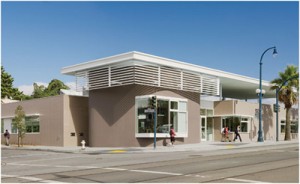 By Joann Gonchar, AIA, Architectural Record Magazine
As a tagline, "building better libraries for stronger communities" might be a little trite, but it does sum up San Francisco's ambitions for its branch-improvement program – an ongoing building campaign funded in part by a $105.9 million bond passed by city voters in 2000. The 24 renovated or newly constructed branch libraries that will ultimately result from this program strive to be more than just places to borrow the latest New York Times best seller or surf the Internet. They are intended to serve as community hubs, offering events as diverse as cooking demonstrations, English classes for recent immigrants, or computer instruction.
These aspirations were very much on the minds of the architects responsible for a branch on a corner lot on Ocean Avenue, the Ingleside neighborhood's main commercial strip. Even though the $3.5 million building, which opened in September 2009, was to be only one story tall and just over 6,000 square feet, "we wanted to give it a civic presence," says Anne Fougeron, principal of the eponymous firm that designed the library along with Group 4 Architecture.
To distinguish the library from the surrounding jumble of one- and two-story structures that include everything from residential buildings to fast-food restaurants to auto repair shops, designers enclosed the various programmatic elements in discrete, but attached, mostly wood-framed volumes clad in stucco and tile. The 22-foot-tall children's reading room, egg-shaped in plan, anchors the southwest corner. Two shorter, boxlike wings extend from the taller volume at right angles. One houses administrative functions and the main reading room, while the other contains a teen area and a room for special events. The roof capping the egg stretches out on steel pipe columns to shelter the main entry and seemingly hovers several feet above the Ocean Avenue-facing wing's actual weatherproof enclosure. The idea was to endow the building with a "grander scale" that belies its true size, explains Fougeron.
Judging from the photos, the strategy works well in strong sunlight, when the building's various surfaces are rendered by shade and shadow, making the edges of the secondary roof and of other projecting facade elements pop. But on a gray day (like the one when this reporter visited) the elevations appear flat, despite the building's sculptural qualities. In the absence of shadow, some pieces, like metal grillwork surrounding the top of the egg, seem superfluous.
If the exterior is a bit disappointing (except under certain atmospheric conditions), the interiors are uncluttered and cleanly modern, with tightly coordinated components. The operable skylights over the main reading room offer one example of this integration. They are a key part of the building's natural ventilation system and they allow daylight to provide the primary source of illumination. But for those times when daylight is not sufficient, designers devised cross-shaped luminaires that they incorporated into the ceiling openings, eliminating the need for potentially visually obtrusive pendant fixtures. Finishes are basic, with a material palette dominated by gray linoleum and white-painted drywall. Even the children's reading room, except for apple-green seating built into a bay window, has few instances of bold color. Instead, the architects have created interest with the curved walls and an amoeba-shaped light diffuser suspended below an oculus in the ceiling – elements that Fougeron refers to as "little moments to spark a child's imagination."
In the reading room, a set of mahogany-veneer, windowed nooks that face a small outdoor courtyard provide visual warmth. Because the nooks penetrate the exterior wall like a giant piece of indoor-outdoor furniture, they afford a transition between the interior and the court – a space intended both for solitary reading and community events.
Photo by Joe Fletcher
2010 Kirby Ward Fitzpatrick Award
1 Kearny
San Francisco, CA
Office of Charles F. Bloszies AIA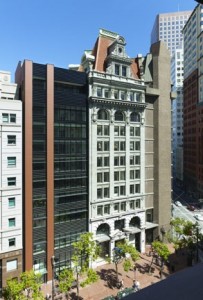 An amalgam of three buildings, one new and two existing (from different eras), forms a new single office building with retail uses on lower floors. The new building on one side plus an existing Annex on the other side function as 'seismic bookends' that support the original 1902 structure without intrusive intervention.
The original French Empire style building was constructed in 1902 and survived the 1906 San Francisco Earthquake and Fire. An Annex was constructed in the mid-1960's, one of Charles Moore's first built designs. Our new building takes its design cues from both architectural styles while inserting a contemporary timestamp.
A richly textured glass and aluminum facade, tempered by terra cotta panels, contrasts the nearby buildings in the architecturally conservative downtown historic district.
In honor of San Francisco architect Kirby Ward Fitzpatrick (1935-1988). Kirby designed, among other things, the Peralta Elementary School in Oakland with Dan Solomon, which was published in Progressive Architecture. During the time his office was at 447 Sutter Street, he also designed many private homes including one in St. Helena, which was published in Architectural Record Houses.
2009 Kirby Ward Fitzpatrick Prize
Congregation Beth Sholom. Best new building in San Francisco 2008. Stanley Saitowitz/Natoma Architects Inc.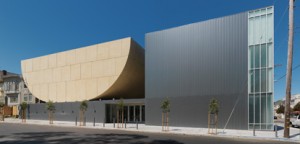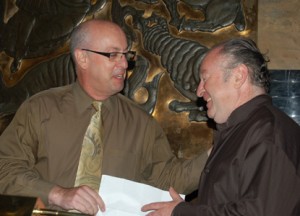 (Stanley Saitowitz receiving Kirby Ward Fitzpatrick price from AFSF board member, David Meckel, FAIA)
Architectural Foundation of San Francisco
Named in honor of San Francisco architect Kirby Ward Fitzpatrick (1935-1988). His own award winning designs include the Peralta Elementary School in Oakland (with Dan Solomon). During the time his office was at 447 Sutter Street, he also designed many private homes including St. Helena, which was selected for Architectural Record Houses. The KWF Prize was made possible by his estate in order to recognize excellence in small architectural practices.
The Prize
Inaugurated in 2005, the first Kirby Ward Fitzpatrick Prize was awarded to Jim Jennings (www.jimjenningsarchitecture.com) for his design of the Visiting Artists Studio at the Oliver Ranch in Geyserville. Subsequent prizes have gone to Paulett Taggart (www.ptarc.com) for her La Cucina mixed-use project in San Francisco's mission district and Stanley Saitowitz for his project for Congregation Beth Shalom. The award, along with a check for $2500, is  presented to the building's architect at the AFSF's Annual Awards Breakfast in May.